We are utility specialists. Our in-depth industry knowledge has seen us working with businesses across the UK for over 20 years, exceeding expectations and saving clients' money. We work alongside you to address all your needs and deal directly with suppliers on your behalf. We are delighted to be working with One Nucleus, securing members with renewable energy at the best rates possible.
Our Services: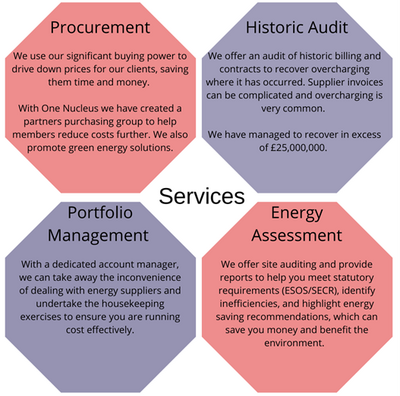 The benefits of using our services:
As a member of One Nucleus, your business is offered our services at a discounted rate.
We are green energy experts and can advise your business which renewable options are most suitable for your business.
We are fully independent and navigate the market without bias to find you the best contract.
Our services save businesses both time and money.
You will have a dedicated Account Manager who can resolve problems quickly and raise queries to suppliers on your behalf.
Our experts constantly monitor the energy market so we advise you on when is best to buy.
What our customers say about us:
"001 has helped Agenus navigate the 'red tape' with speed and professionalism. They are always looking for ways in which we can save money on our utility contracts." Edwin Hernandez, Associate Director, Metrology & Facilities Services at Agenus
For more information and how to join our partners purchasing group please contact:
Leticia Basgal leticia.basgal@001ltd.co.uk  +44 (0)7956 101590
Ursula Somers ursula.somers@001ltd.co.uk  +44 (0)1727 857 600
Open 9am - 5.30 pm Monday to Friday