Blog by Alicia Gailliez, Business Development Manager, One Nucleus
You probably will not have read many blogs recently that start with a forest fire analogy, especially one targeted towards a Life Science audience, but here goes! On my recent trip to Yellowstone National Park, we learnt about the fires of 1988.  Although devastating, the fires were an unprecedented chance to study the ecological impacts in an ecosystem and it was found that the environment would regenerate in a different way and one that could sustain a greater diversity of vegetation.  This re-orientation can be likened to paradigm shifts in society caused by the Covid-19 pandemic. 
Covid was a devastating chapter in humanity and to save patients, there was an urgent need to react quickly and innovatively.  Lessons were learnt and globally, businesses and industries had to adapt quickly to develop new ways of working, emerging in a way that would increase their resilience.
I am now considering a re-orientation of my own.  As a people-centric organisation, events are an essential part of the One Nucleus offer. Our BioWednesdays have been running for over two decades now and reinforce the sense of belonging to the One Nucleus community.  During the pandemic, remote events became the necessity and for a group like One Nucleus, where connectivity is our bread and butter, we jumped headfirst into becoming familiar with the Zoom platform.   From this point onwards, I would say that how we deliver our events will have potentially changed forever and what follows are some of our key learnings. 
Key Lesson 1: Going forwards, learning to leverage technology where practicable and reliable will be useful.
I was reminded recently that it is important to see challenges from different angles to better explore a situation and to support in forthcoming decision making.  Part of this involves looking for 'bright spots' or where things worked well and the successful shift to virtual BioWednesdays were an example of this.  At a time when we were completely locked down, this adoption to a completely virtual format enabled us to keep our network connected and collaborating, as well leverage new benefits. These included bringing together a greater diversity of speakers and attendees from across the globe and recording the content so that it can be shared post event.

Key Lesson 2: In-person events are very important and bigger isn't always better.
Perhaps reading this now, you are tired of back-to-back virtual meetings and miss being close to fellow peers at in-person events (well maybe not for some).  You would certainly not be the only one.  After all, humans are (mostly) social creatures. At the end of 2021 and into the start of 2022 we experimented with decentralised BioWednesdays where a virtual panel was streamed to multiple physical hubs.  We experienced smaller numbers at hubs, but the positive is that sometimes smaller groups can help the flow of conversation by encouraging dialogue amongst all attendees and can be just as effective for building connections.

Key Lesson 3: Hybrid is here to stay.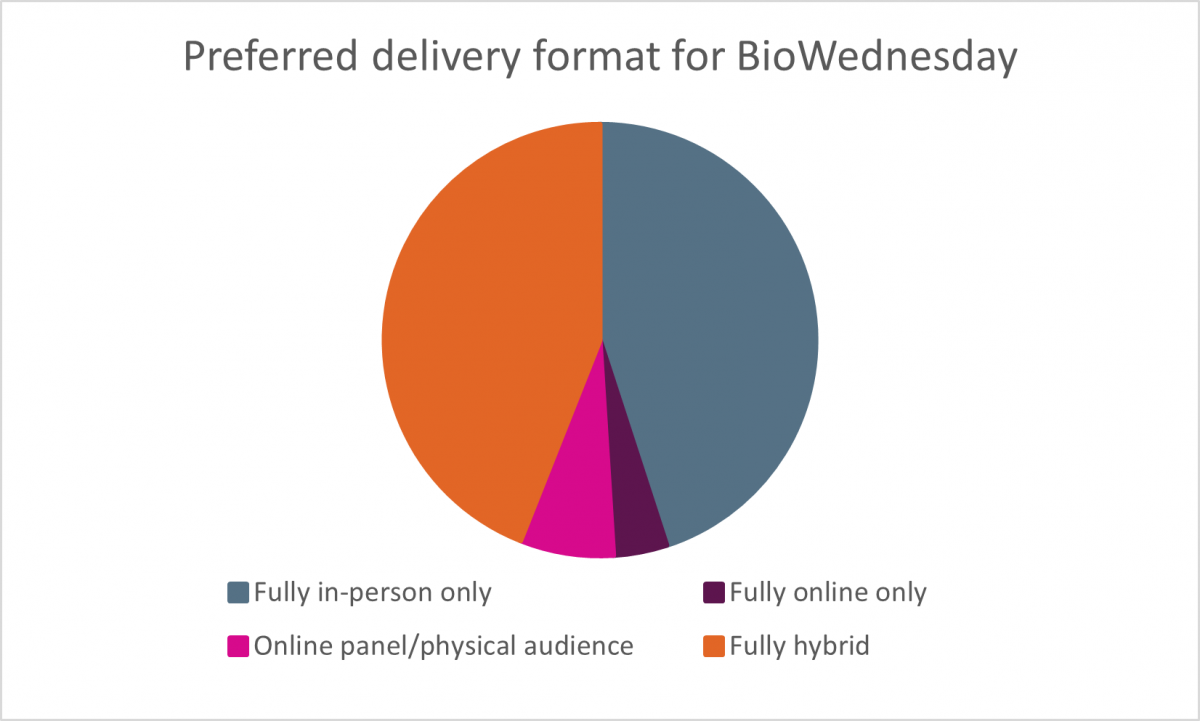 Fully accepting that there will be mixed views on whether we retain habits from the pandemic or revert to how things were before, we invited our network to let us know their views and asked the question 'For a BioWednesday networking meeting, what would be your preferred delivery format of the event?' As shown in the pie chart (n = > 100), the preference for virtual events is nearing an end and a combination of fully in-person and hybrid is popular.
So, in conclusion, now is the time to take stock of what we have learnt and to continue our journey to develop our BioWednesday meetings and to deliver on what we know our network wants to see.  This forms the next chapter of the journey and we hope that you will be joining us along the way.