Blog by Tony Jones, CEO, One Nucleus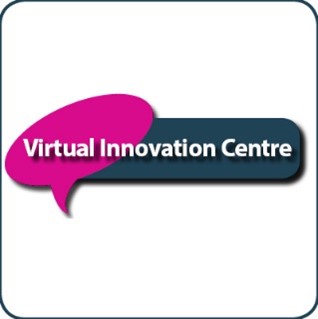 January 2021 saw the launch of the One Nucleus Virtual Innovation Centre (VIC) created to provide a means for growing life science R&D companies to connect with and leverage the breadth of the One Nucleus ecosystem. A complementary offering to the variety of Innovation Centre, Accelerator and Incubator-style initiatives that are established and collated at a national level in the BIA Innovation Map, recognising that the need for support isn't essentially time or set programme limited and requires those businesses to integrate into a coordinated ecosystem without walls or limitation.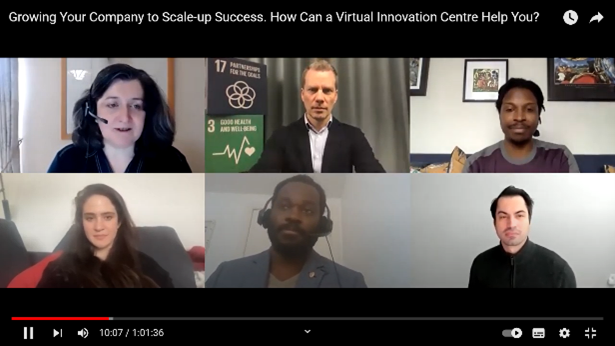 It has been a pleasure to see the programme develop over past 18 months since, engaging numerous companies and expert partners in the sessions and onward meetings. It has provided One Nucleus with plenty of food for thought also to shape the VIC initiative further. Here we set out some of the provoked considerations and how it is helping us shape the programme's future.
What is a Virtual Innovation Centre?
Often referred to across industries as 'Co-working space in the digital world', one could feel what we had in mind was simply an online version of One Nucleus activities. Not in my mind at the VIC's conception.
Utilising the terminology virtual was more to reflect that the edges of this space are somewhat fuzzy for a couple of reasons. First, the One Nucleus network comprises an immense breadth of excellence and business models. Defining all the support required too narrowly would thus not fit with One Nucleus core mission, but rather it should be responsive and flexible.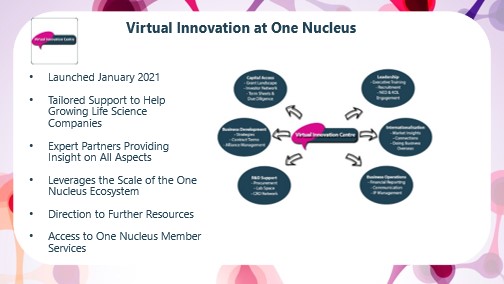 Second, whilst the virtual world offers some advantages, fundamentally we believe the people-factor is vital in doing business and innovation is a contact sport. Leveraging online technology to support connectivity and knowledge exchange for sure, but not exclusively.
Is the VIC for R&D companies only?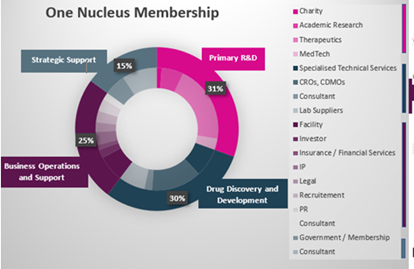 This question has been raised a great deal. Reflecting that such programmes are often targeted at start-up venture-backed research companies so that becomes an expectation. we would argue that excellence is not best differentiated by business model, company size, location or primary business model. Indeed, for the sector to collectively deliver innovative solutions to improve patient outcomes, we need all parts of the jigsaw puzzle to work – and Life Sciences is an immensely exciting jigsaw to be a part of so why not engage all of it? To this end, we need innovation in all quarters across the science, technology, investment, dealmaking, physical space and advisory services, team building and more, so we will welcome companies from all aspects to the programme.
What will be involved looking ahead?
Looking forward, we can continue our intention to fully integrate the VIC into the broader One Nucleus portfolio of activities. With no application deadlines and fixed period commitments, a seamless interface to the membership benefits and connectivity for those wishing to engage in the directed innovation support the VIC can provide such as the Innovation Seminars & Roundtables, Office Hours sessions and Operational Support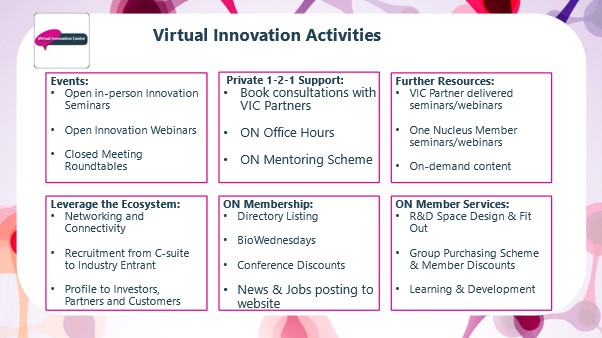 For more information:
Please contact: Tony Jones on tony@onenucleus.com