Here at Giggabox, we are extremely proud to announce that we have been chosen to power British Chambers of Commerce's flagship event. Being one of the main events in the business calendar, the British Chambers of Commerce Global Annual Conference 2021 will take place on 16th and 17th June. This two-day Virtual Event will feature a host of influential business leaders, politicians and policy experts, and stream to thousands of attendees from all over the globe.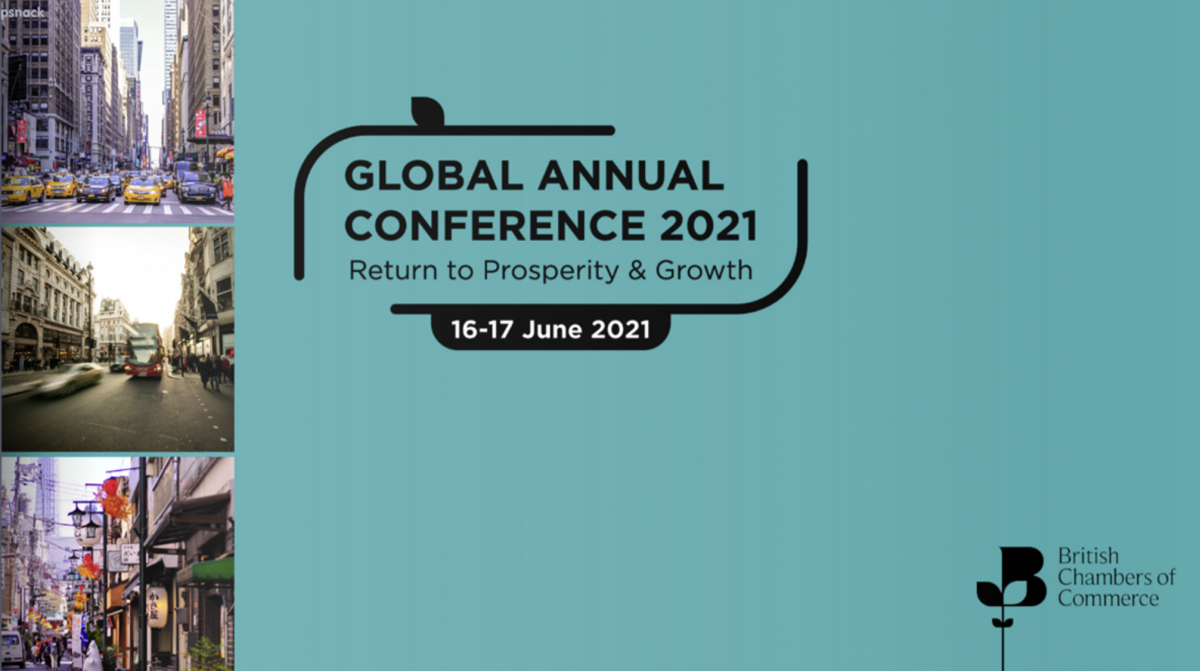 Paul Musselle, CEO of Giggabox, commented "We're absolutely delighted that British Chambers of Commerce is placing its faith in us to deliver their first ever Virtual Event. I am very familiar with the brilliant support the network provides for businesses. For our Giggabox team to have been selected to deliver the 2021 National Conference using our proven Virtual and Hybrid Event skills is a great honour."
The Conference
This Conference will discuss the most significant issues surrounding current business activities, such as economic recovery from the pandemic, post-Brexit trade deals, and ensuring a sustainable future. Over the two days, this event will incorporate a multitude of high-level keynotes, practical workshops, as well as virtual exhibitions and panel discussions with industry experts.
Day 1 of the Conference is titled 'A Year of Challenge and Reflection', with themes of business resilience and trade & technology as drivers for economic growth. Day 2 is titled 'The Road to Viable Renewed Growth'. Here, the topics of environmental sustainability and how people are the primary force for change will be focused on. Overall, this event will provide so many attendees with opportunities to understand the latest developments in their industry, to attend virtual networking sessions with likeminded professionals, and to ask industry leaders questions during Q&A sessions.
Giggabox's Conference Experience
Giggabox have extensive experience with similar Virtual Events, having supported a wide range of Virtual Conferences for organisations large and small. In October last year, Giggabox powered Ayrshire Chamber of Commerce's Business Week. With this, Ayrshire Chamber wanted to create a branded experience for their members, as it was important for companies to see their logos and the logos of sponsors throughout the event. For this, Giggabox were tasked with creating virtual backgrounds, lower thirds that included name and company, holding slides for each session, as well as wipes, transitions, and overlays. As standard with all our Virtual Events, the Giggabox team also provided an online briefing for the speakers at the Ayrshire Chamber event to make them certain on what to expect whilst in the studio room. You can read more on this case study here.
Giggabox also helped Inverness Chamber of Commerce run their Highland Spotlight Virtual Exhibition. This exclusive event involved over 30 exhibitors and ran in a similar way to the Ayrshire Chamber of Commerce Conference. The Giggabox team operated the live stream with our streaming technician, as well as having our producer in the studio room and an assistant running our Virtual Green Room to prepare all the speakers. If you'd like to read more on this case study, please click here.
The Benefits of Virtual Conferences
Over the course of the pandemic, we have seen more and more businesses take advantage of sponsorship capabilities for Virtual Events. This comes in many forms such as sponsoring a session or a full day, having individual sessions hosted by a sponsor, exhibitor spaces dedicated to sponsors, and banner ads hyperlinked directly to sponsors' websites.
The most recognised benefit of Virtual Conferences is time. Instead of having to travel and stay overnight to attend a 1- or 2-day Event, participants will have the luxury of experiencing the event at home or from their office.
Another note to consider is cost. Virtual Events are typically much cheaper to run than Live Events. Attending online events, such as Virtual Exhibitions, require much less financial input from attendees who would usually have to book transportation and accommodation to and from a venue.
This article is also featured on Major Events International, Northamptonshire Chamber, and Milton Keynes Chamber's websites.
If you require a production company for your event or would like any information regarding Virtual Events and the options available to you, contact Giggabox today
hello@giggabox.co.uk | 01280 735050 | www.giggabox.co.uk
Guest blog by Giggabox
Written by Philip Barnes – Marketing Assistant at Giggabox
The One Nucleus blog is written by individuals and is not necessarily a reflection of the views held by One Nucleus. Please email natalie@onenucleus.com for more information on 'guest blogging'.