Strong leadership teams within an organisation are essential for employee engagement, satisfaction and overall business performance. With the 'Anatomy of a Life Science Leader' panel discussion fast approaching at our annual Genesis conference on 7 December, we've been thinking about what you might need to take into consideration when hiring an effective leader. Here are some thoughts…
What is a Good Leader?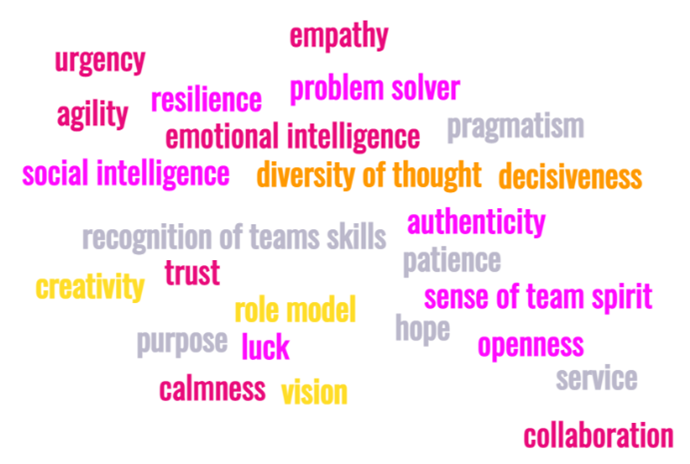 First and foremost, having in mind what you believe to be a good leader and defining these traits clearly will help you when creating a job description and throughout the recruitment process.
Reflect on what works well within the business and the areas for improvement. Recently Mike Ward, Global Head of Life Sciences & Healthcare Thought Leadership at Clarivate who will be moderating the panel mentioned above, asked his LinkedIn network to share, in three words, what they think best describes the qualities of a life sciences leader. The responses that appeared in the comments are shown in the image above.
Communication
How you communicate your company to the recruit will also be very important. In a recent One Nucleus Employer of Choice webinar in collaboration with the Future of Work Institute, we discovered the importance storytelling has to support recruitment and retention strategies. You will attract talented leaders with values that align to your organisation if they are communicated effectively. According to the Future of Work Institute, before a candidate applies for a role, statistics show that they will use an average of 18 sources and read 7-8 reviews. This means that the candidate journey starts anywhere that the employer story can be found, so make sure it's memorable!
How Important is Background?
We know not everyone is perfect, so how important is it for the recruit to have a science specific background? It's common to see that job descriptions will ask for a specific number of years worth experience, but a sector specific background isn't always necessary. Recruiting someone from a different industry but with the correct transferrable skills, immediately introduces diversity into your team, which is a huge positive. According to indeed, the benefits of diverse teams in the workplace include:
Increased creativity and innovation
Efficient problem solving and decision making
Increased employee engagement
Better business performance
Strengthen team skill sets
…which is essentially what people outlined as the qualities they look for in a life science leader in the word cloud above!
Be Proactive
Use job boards, social media and networking time effectively. The more platforms you advertise your roles, the more visibility you gain. It's a great way to communicate and increase your employer brand awareness, this will help to build trust and attract high quality candidates. There is also very little cost attached in comparison to recruitment consultancy fees.
If you are a member of One Nucleus, don't forget that you can post your vacancies, news and events on our website. For more information on how to post, please contact info@onenucleus.com.
We also have a One Nucleus Members' Jobs group on LinkedIn with over 100 members.