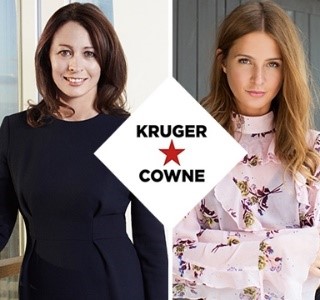 Recently, I was fortunate to be invited to the Kruger Cowne Breakfast Club event held in London to hear two of their clients – Caroline Rush (CEO, British Fashion Council) and Millie Mackintosh (Entrepreneur, Designer, Model and Fitness & Health Ambassador) – discuss aspects of the fashion industry, supporting creative talent, entrepreneurship and business from their perspective. See some selected highlights at http://www.krugercowne.com/events/caroline-rush-millie-mackintosh/
Fashion may feel a long way from Life Sciences & Healthcare, but it was striking how so many of the challenges faced and advice given resonated with much of what I hear in our sector. The insight started during the networking beforehand in discussion with experts from a branding and PR company. We discussed the challenges of building trust with your target audience. Whether that audience is customers, stakeholders, investors, employees, colleagues or other depending on your specific company, how to engage and build trust in a technology-driven world is changing that engagement practice. Maybe our sector has much to learn from other industries in this regard as health technology and growing patient engagement are playing such a vital role in aspects such as early diagnosis, clinical trials and patient adherence. Interestingly, how to penetrate an industry sector such as Life Sciences, where terminology and a perceived desire to be closed to 'outsiders' was viewed as a challenge for those wishing to bring in new ideas and help.
As the main interview and audience Q&A of the Kruger Cowne Breakfast Club progressed, ably prompted by host Adrian Sington, the discussion revealed a number of common challenges (and similarities) across our two sectors. The increasing need to have multi-disciplinary teams to be able to create and position the value proposition to customers/investors is common to both. There was also discussion of the need to be relevant and in the moment, appreciating what is currently vexing and worrying the person you are pitching to at that particular time. Perhaps in Fashion, trends, technologies and customer needs move on faster than in our industry, although technology is changing our sector very rapidly.  Maybe staying timely and relevant is becoming increasingly important in aspects such as engaging patients, educators and investors.
One clear similarity in the Fashion and Life Science sectors is that talent is key. Creating new medicines is a very creative process and that, much like in Fashion, requires creative and innovative thinkers with the confidence to express their ideas. So where does that confidence come from and how can it be nurtured? The British Fashion Council takes a leading role for their sector by providing, awards and recognition to upcoming talent.  They have established the Fashion Trust to help entrepreneurs get started and address their business challenges, driving global platforms such as London Fashion Week to showcase designers and much more. There were also similarities in the skills arena. There was a feeling that our education system may be extremely well suited to developing new designers with the creativity skills and entrepreneurial drive required to start and grow new businesses. Success depends on many skills and functions such as machinists and pattern cutters to translate designs to products. Our education system may be less well suited to producing a deep labour pool in the production and manufacturing orientated roles which require different skills levels and aptitudes. These functions play no less an important role in translating a great idea into a great product than any other part of the process. If the UK is to grow the manufacturing and production side of the industry, scaling our businesses and driving economic growth it is important we enable an ambitious and entrepreneurial labour pool across all skills. This is not dissimilar to what I hear from our own sector. The Life Science Industrial Strategy seeks to address this issue through initiatives such as Cogent, increasing apprenticeship usage and investment in bio-manufacturing facilities with training. A desire to increase our innovation capacity. Another common challenge is how to capitalise on excellence in research and innovation to create jobs,  spreading the health and wealth benefits in regions neighbouring centres of research excellence yet not seeing economic benefit from those centres.
From an entrepreneur's viewpoint, what were the key lessons?
Almost immediately it was set out that whilst the talent to design is essential in starting and growing your own business, an appreciation of what other parts of the business do is vital.. The founder needs to be aware of the importance of surrounding themselves with people with the complementary skills and competence required, so that they can focus on their value-adding role. An example given was how employment with an established company can provide exposure to, and hence appreciation of, the related administrative and support functions required to run a business. Such awareness being a big step on the way to a company founder assembling the right team to enable their success.
Enabling company founders to gain such awareness can be a challenge in our sector, especially where they focus on perfecting their scientific or technical skills. A small, focussed employer may not have the capacity to offer employees a rotation-style training programme where they spend time in other departments in order to understand the overall business. Such schemes are seen in larger employers, but less so in the small company space which accounts for a great deal of our industry. There is no compelling reason in my mind why universities are able to provide such an enlightening environment or should solely be charged with doing so. There are excellent examples of training in entrepreneurship and business skills, though that can only go so far perhaps. Work placements may be a scale-able and effective local solution whereby industry can play its full role too. I mention local since I feel there may well be a factor that some things happen best locally with central facilitation rather than control – the cluster effect! By helping students to gain awareness and insight of career possibilities (laboratory or business), organisations such as One Nucleus can make a useful contribution to developing a comprehensive talent pool for a cluster. Engaging our members in nurturing future talent in all roles is at the heart of a not-for-profit group such as ours.
We need to consider where the creative, and perhaps disruptive, ideas will come from.  At the Kruger Cowne Breakfast Club event, it was suggested that pathways need to be created for all. All sectors need to have a somewhat porous envelope that career builders can enter from multiple starting points, backgrounds and experiences. This is really about enabling true diversity in the sector. Access via multiple pathways, with guidance to those on their journey from established players, can avoid the industry sector being seen as too elitist to allow others in. A clear perception from the pre-session networking I mentioned above on this occasion. Elitism, real or perceived, increases the risk of a sector becoming less relevant, therefore not attracting the best talent. So I feel in our sector we must show due consideration to pathways – career pathways that attract, retain and enable the best talent and patient pathways that enable innovative solutions to be delivered with full engagement to improve outcomes.
So what do I feel I learned from the morning's session? :
I saw many parallels across the Fashion and Life Sciences industries that reminded me of the common challenges we face in sustaining and building upon the successes to date
It also reminded me of what a highly creative and innovative powerhouse the United Kingdom is, in biomedical research, technology and design
An industry cannot be closed to new, sometimes disruptive ideas if it wishes to stay relevant and competitive
Access to capital at start-up and growth is key for all entrepreneurs
What I didn't touch upon above was communication and engagement skills. Social media has changed society in terms of reaching customers, business partners, policy makers and talent. Maybe our industry starts from a difficult place to engage with non-specialists due to the complexity and terminology. Perhaps the Life Science industry has fewer good visual examples compared to Fashion when selling the product and engaging an audience.
The Fashion industry shows us however that creating excitement within your target audience, stimulating the conversation to get engagement and realising that people value the experience at least as much as the price when 'buying' are very effective. Our sector is increasingly enabling patient engagement by moving away from trade-trade dialogue to trade-patient dialogue. So we are adapting to a new landscape already. Our challenge is to expand that engagement to ensure we attract all the skills we need to grow our businesses, from high end science and business to technical, administrative and logistical support roles and those with the capital to join our sector on its journey to improving peoples' lives. Creating the attraction not because it is seen as elitist, but because it is relevant, it makes a difference, is exciting and fashionable!
My thanks to Kruger Cowne and their clients for inviting me to the event and hearing their insights.
Written by Tony Jones PhD, CEO, One Nucleus