Whatsapp, Youtube, Google Ads, Linkedin, Facebook, Instagram, Twitter, e-mail, Teams, Skype, Slack… it's easy to feel the dread and anxiety when glancing at your phone on an afternoon! All these platforms have one thing in common: your attention!
Even scientific brands have now joined the incessant competition for your attention. So how do you separate the signal from the noise in this increasingly competitive world?
Content Marketing for Life Sciences
We should all be familiar with content marketing, or inbound marketing, by now. These  concepts underlie how you are found online in your specialist areas, applications and industries – and the data certainly suggests that people are increasingly coming to grips with the methods. A recent purchasing survey with News-Medical Life Sciences found that:
84% of scientists involved in purchasing decisions say that online publications and application notes positively influenced their decision to buy.
It seems obvious nowadays, yet it wasn't so long ago that major brands would still apportion huge chunks of their marketing budgets toward increasingly obsolete offline channels such as print advertising and trade magazines without stopping to question the true ROI.
Despite all the data espousing the virtues of modern content marketing in the 21st century, there remains one major hurdle:
65% of scientific marketers say content creation presents a major challenge…
Time and money were cited as the major issues. You spend hours creating content, only for it to receive little to no traffic while wallowing in the depths of obscurity far beyond the light of page 1 of the SERPs!
Demonstrating Expertise, Authority and Trust
Google recently tweaked its algorithm to focus on sites which displayed Expertise, Authority and Trust. Whilst initially focusing on Your Money or Your Life sites i.e. sites that would have a direct impact on people's health, wealth, and happiness such as financial institutions or medical providers, it has since swung the guns around to focus on life sciences.
This also has a knock on effect for marketing life sciences. The immediate solution is to utilize all of the human capital at your disposal.
How many PhDs do you have working on-site? How many times have you asked them to create content for you? They're too busy, right?
Write questions and mini interviews which elicit the answers and responses that you need. It's quick, easy and allows the experts to share their wealth of knowledge without feeling overwhelmed.
Expertise is about whether the people writing content for your website are experts in their respective fields. It's important to demonstrate your level of expertise on every piece of content you produce. Ensure you show off their credentials and body of work by creating author profiles which link back to their social profiles.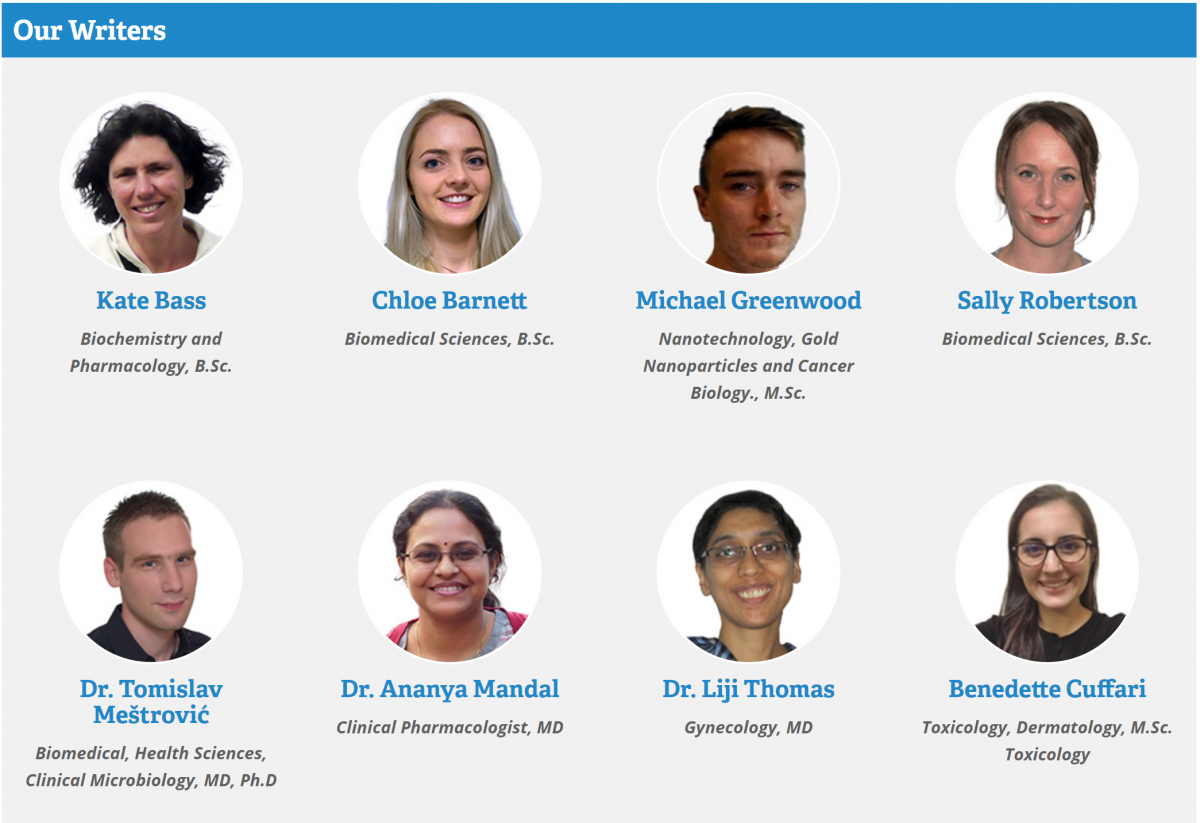 Authority is about your brand reputation. If people are linking to your website and talking about both your website and content producers on social media, you'll be seen an as authoritative figure by Google.
Trust is a measurement of credibility and authenticity. It's important your site operates over a secure protocol (https), with a valid and trusted SSL certificate, as this will affect the trustworthiness of a brand or website.



Similarly, you can add accreditation or extra standards to your site which will add to your trust score.
HON Foundation is a code of conduct used to assess the usefulness and reliability of medical and healthcare information on the internet.
Similarly, TrustArc leads the way for privacy certifications and data standards in a post GDPR world.
Keyword Planning
Tools like MOZ and SEMrush can help you plan which keywords would be the most beneficial. The Keyword Planner from Google shows you search volumes and helps to brainstorm related terms and ideas.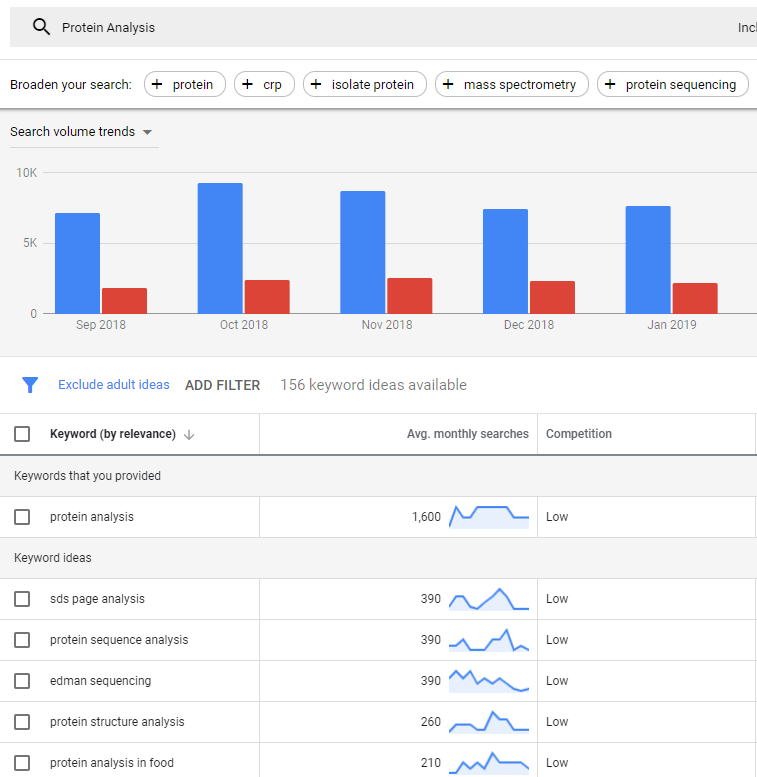 Here we can see that Protein Analysis receives 1,600 monthly searches. Whilst its harder to match for shorter keyword strings, consider broadening the search and optimising for less competitive terms such as Protein Sequencing Analysis, which only receives 390 monthly searches. You will be more likely to rank for these "long tail" search terms and, by the specific nature of the search, they are more likely to be a better fit which converts into a commercial opportunity.
Utilize Big Rock Content
You have decided on your keyword strategy and have worked hard on your content to exhibit E-A-T, now it's time to make your content work for you.
Creating great content is resource intensive. So, take the same customer stories, the same application notes, the same expertise and re-purpose the content in as many ways as possible.
Can a customer feedback survey be turned into an eBook, a blog post or an Infographic?
Can that eBook be turned into a video or a customer success story?
Can that video be turned into webinar or clipped and transcribed into digestible social media posts?
Life Science Marketing - Conclusion
Marketing life sciences in the era of GDPR and post-Cambridge Analytica is not an easy task for the budget-limited marketeer – but it's not impossible. The key takeaways are to leverage the tools and  resources at your disposal in a clever and cost-effective manner. Demonstrate your expertise in big-rock content, then repackage and repurpose that same content to fuel your marketing efforts of tomorrow.
Speaking of big rock content: To find out more, watch the Content Marketing for Life Sciences Webinar – AZoNetwork will be live at 6pm on Wednesday 2nd  October and will be available on demand shortly after.


AZoNetwork is the parent company of New-Medical Life Sciences which receives an audience of 5.7M+ visitors who work in the life sciences, research and healthcare industries.
This blog was written by Frank Barker of AZoNetwork and was adapted from the content marketing for life sciences webinar.
The One Nucleus blog is written by individuals and is not necessarily a reflection of the views held by One Nucleus. Please email laura@onenucleus.com for more information on 'guest blogging'.