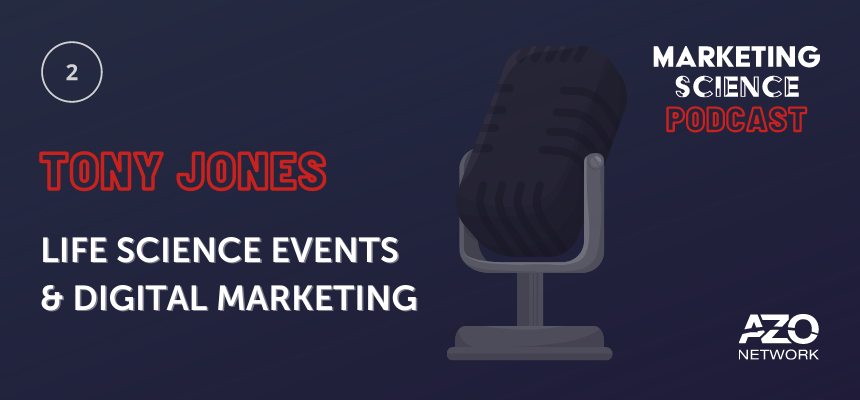 The Marketing Science Podcast is a series of podcasts for sales and marketing professionals working in Science, Engineering and Healthcare. On this episode, Tony Jones, joined AZoNetwork to share insights and experience from his time as CEO of One Nucleus.
Below is an adapted transcript from the podcast, which you can listen to here. 
Can you take us through your career journey from being a PhD in biochemistry to becoming the CEO of one of the largest life science networks in the U.K?
I originally trained as a scientist and I was working in cancer research. Over the course of my research, I spent more and more time engaging with funders and collaborators, rather than doing work in the lab. During that time, I realized that I really enjoyed the personal interactions and opportunities to talk to people about science. 
An opportunity came up to switch to a non-lab role and I got more involved with processes like putting companies together and raising investments. In 2000, a group of us formed the London Biotechnology Network and after a few years, I was asked to take over the network. 
In 2010, we merged with the Cambridge-based network to form One Nucleus and 3 years ago, I took over as chief executive officer of One Nucleus. 
How important is it for scientists to collaborate online? Should scientists try to move towards more open-access science?  
It is pivotal that scientists prioritize collaboration because true innovation often happens at the intersection of two different sectors. Research and development are becoming more informed by the use of big data. We have more data around topics like genomics and pharmacology, and these big data sets enable progress in those fields. Working in smaller groups means that you won't always have data at a large enough scale to see the patterns that enable progress, so collaboration is key.
Collaboration has always been critical, but if you have platforms that are completely open for anyone to publish on, I think you have to walk that balance between peer review and maintaining certain standards and open access.
On social media, we're seeing more and more non-scrutinized content popping up. This type of content can often create confusion and can lead to conspiracy theories that can grow very quickly, especially if they have the right buzz. I'm not saying that people shouldn't publish ideas that contradict established ideas, because that is what leads to new scientific developments, but the scrutiny is equally important.
How has technology played a role in increasing collaboration in the life sciences sector? 
Technology has enabled us to communicate and share knowledge at breakneck speed. As a membership group doing lots of events, the point of One Nucleus coming together with our members through physical events was always to share knowledge. Now, we're doing those events online, but we're still able to effectively share knowledge and insights.
Scientists love to share insights and knowledge with their peers because that helps to refine their own thinking. Technology has played a huge role in enabling us to disseminate that knowledge faster.
How does One Nucleus facilitate global collaboration and interaction between its members in life science and healthcare? 
We often collaborate with similar groups to One Nucleus that are based all around the globe, but we focused on doing in-person events. For example, if we were all at a big convention in the US, we would plan interactive events while our member companies were together. 
What we have managed to do by moving these events online is use our international connectivity to bring our different sets of members together. During our virtual events, we now can get many different global perspectives at the same time. It can lead to situations where someone from the UK can learn about the manufacturing of advanced therapies going on somewhere in the US and get involved, which would have been more difficult before these events went online.
At a time where our members are unable to travel and open up new collaborations and new service offerings, virtual events have been an area where we've been able to add real value and will look to continue to do so.
Can you tell us more about what you learned from running the ON Helix event as a virtual event over the summer? 
Thinking back to March, we still believed that we would be delivering the event in Cambridge for 300 people. We had quite the learning curve in terms of learning how to move a conference online.
The virtual event ended up attracting over 400 people, but throughout the planning process, we certainly had a lot of questions around the type of content to create for a digital event vs. a physical event. But we looked at it as a challenge and as an opportunity to learn. 
One of the benefits of digital events was the ability to engage with our attendees in a global way. With the use of technology and without the hassle of having speakers travel to the event, we could think about having more varied speakers from places like the US or Australia.
We have built a lot of confidence from running the ON Helix event and we're currently rolling this forward with Genesis 2020. For the Genesis event, we've created a set of on-demand content that we're calling 'Around the World' because of our ability to host a global set of speakers who will discuss the same topic, but from their particular landscape.
Can you give us more examples of some of the positive things you have taken away from the digital events you have run this year?
We've experienced great collaboration from these events, where participants haven't been thinking of another company as a competitor but instead, they have come together to share ideas around things like how to work within the COVID-guidelines, how to be good employers and how to be good corporate citizens. 
We have also seen many of our relationships with our member companies deepen. We no longer just see the people who go out to business development or tech scouting events. Now, we can engage with people who are based in the labs or on the operational side of the business, who would not have left the company for a whole day to go to a physical event, but who can attend an hour-long webinar. 
For your upcoming event, Genesis, how much of your content will be live and interactive vs. on-demand? 
It's about 60% live and interactive and 40% on-demand. We have also planned a week surrounding the event with scheduled 'Innovation Workshops', where exhibitors can run a 1-hour interactive workshop to enable that live interaction that is often missed in digital events.  
Through our last event, we found that running on-demand sessions parallel to the live and interactive sessions was useful for attendees. So, if there is a live session that someone isn't interested in, they easily find an on-demand session on a topic they want to attend.
The on-demand content can almost serve as background reading as well. We can encourage our attendees to make use of the on-demand content so that they get the best return on their investment of time during live sessions. People can often be more passive because they don't feel that they are enough of an expert to participate or ask a question, but if they have used the on-demand content to develop their knowledge before a live panel session, they will be able to have a more informed discussion. 
How many delegates and exhibitors are you expecting for the Genesis event?
We're expecting around 400 - 450 delegates for Genesis 2020. The Innovation Workshops have essentially replaced the exhibitors and there are about 20 of those interactive sessions going on during the week. We recognize people may not want to spend 4 full days attending a digital event, so we have made it possible for attendees to customize their own agenda to include the sessions they are interested in.
Beyond that, it's going to be interesting to see how active people are after the event. I am interested to see how people follow up with contacts they have interacted with during the event or if people connect with someone from an on-demand session they watched. When you attend an in-person event, it can be easy to miss networking opportunities, but with digital events you have the chance to go back and leverage that connectivity.
How have companies adapted their digital marketing strategies over the course of 2020?
We have clearly seen a huge increase in the volume of digital marketing strategies. We have companies, particularly contract research organizations and technical service providers, who are creating a lot more digital content, whether that is webinars or educational pre-recorded sessions. Many companies have really embraced technology and have found innovative ways to make content more accessible online in lieu of being able to share information face-to-face.
I have been impressed with the speed at which some of our member companies in the life sciences sector have learned how to do digital marketing. They have managed to identify the key things that people want to take away from digital events or digital content. They haven't just moved their content from an in-person conference online, they have given significant thought to their key messaging.
What do you think future events like ON Helix and Genesis will look like? Do you see a hybrid event format working? 
Assuming we are able to go back to face-to-face events, we will certainly see the use of more technology. Even with face-to-face conferences, we may still see more use of live streamlining and on-demand content. I think we can also retain the ability to bring international perspectives to our events through the use of technology.
Hybrid events have been around for some time, so I think we're going to have to learn what elements work and what don't work. I believe that Genesis and ON Helix will come back in a physical form of some kind, but I can see why a virtual event like Genesis 2020 would still work well in the future. I think local audiences still want to come together to learn from each other, but maybe the international audiences won't want to travel the long distances in the future. I think there will definitely be forms of hybrid events, but we will have to see what exactly they look like.
How has the financing and investment side of the life sciences sector been affected over the course of 2020? 
So far, it looks like 2020 is going to be a record year in terms of the amount of financing raised by the life sciences sector in the UK. Obviously, some of that money has come into companies who are active in the COVID-19 response and has been driven by a need for a rapid response and the need for resources to achieve that. But there are also many companies outside the COVID space who have raised significant sums of money. I think it's due to a combination of having great science breakthroughs, and because venture funds still need a place to put their money, even during the pandemic.
Financing has worked at a very healthy level and we may see people who haven't been investing in life sciences before, start to see the monetary value of investing, as well as seeing it as an opportunity to be responsible citizens.  
People want to be a part of larger causes and take part in impact investing. I think we've seen the life science sector justifiably raise significant money during 2020 because it has demonstrated that it adds a lot of value to our society and our populations.  
What are the major trends within biotech, healthcare, and life sciences that you expect to see over the next five years?
Many of the trends are already happening. For example, the use of artificial intelligence and machine learning, data science to better inform research, and particularly in the biomedical field we're seeing a convergence of technology and biology. 
The pandemic has accelerated the development of many of those trends. We're going to see more interdisciplinary teams developing within the life science space as well. And bringing this back to the last question, these developments may help to bring in investors who are new to the life sciences or healthcare sectors.
Find out more about Marketing Life Science Events at AZoNetwork.com