Tony Jones, Chief Executive Officer, One Nucleus
As always, it is a privileged part of the month where I get to be in contact with the One Nucleus network by welcoming you to our eNews.
There are a plethora of good news stories to choose from in the sector, many of which are posted by members to our website, LinkedIn and Twitter feeds where you can stay up to date. Below, I recap on some One Nucleus highlights from the last month and update you on some upcoming plans.
Do you feel supported in the UK?
It would have been hard for anyone in the UK Life Sciences to have escaped the media and industry commentary traffic around the Chancellor's Budget and Comprehensive Spending Review announcements.
To the untrained lobbyist such as myself, then the advice being openly given by the various national associations and lobby groups was consistent across them all: Commit to the £22Bn public investment in R&D by 2024/25; modernise the R&D Tax Credit system; increase health research funding; address the immigration system to attract global talent; and invest in scaleup and manufacturing all seemed  common themes at face value.
It was pleasing therefore to see much of what was announced being a positive response to those collective calls. As with all things, the devil will be in the detail of how the announced funding uplifts and policy changes are implemented before we know for sure what the true benefit to the Life Sciences industry in particular is, but I am confident those charged with lobbying for the sector, both for their members and non-members alike, will continue to provide the required advice to Mr Sunak.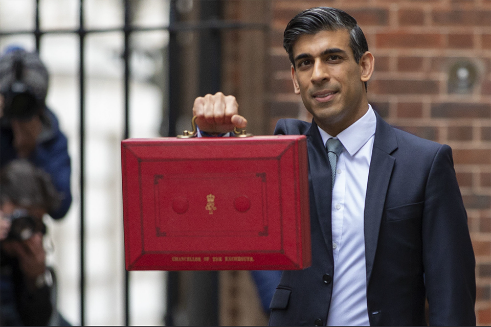 Right Honorable Rishi Sunak MP,
Chancellor of the Exchequer
Photo: www.uk.gov.uk
It's nice to see you!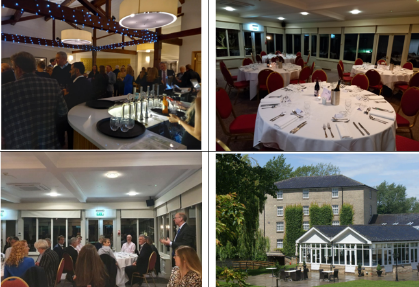 Confidence is growing for many over the return to what we had come to accept as business-as-usual pre pandemic – that luxury of being able to meet face-to-face to share knowledge, drive innovation, build rapport and generate collaborations and deals.
It was an absolute delight to have welcomed forty of the region's key executives to our Regional Life Sciences Dinner held on 21 October at the picturesque Quy Mill Hotel, Cambridge. The energy and enthusiasm for being able to network and discuss what's occurring among peers was excellent. It felt like it was the 'clustering effect' illustrated and why local connectivity and collaboration
is key to all stakeholders. That is in no way to say there is not a valuable role for virtual events going forward as I have expressed repeatedly. I think the enforced use of virtual event formats has taught us many lessons around priorities, values and work-life balance.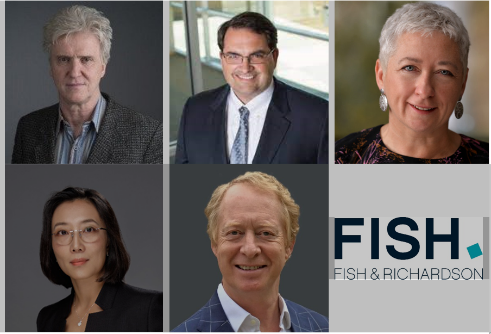 An article in Nature on 'An analysis of ways to decarbonize conference travel after COVID-19' provides some interesting food for thought on balancing global connectivity with local value. The decentralised approach to gathering around 'What does the US-China Interface Mean for Global Life Science Industry?' experiments with harnessing the best of both worlds of online and in person compared to what sometimes feels like the worst of both in the truly hybrid model. You can see later in this issue how the fully virtual model can enable global connectivity via the Johnson & Johnson as well as the Japan
Healthcare Venture Summit we are pleased to be supporting respectively.
And let's not forget, combining the dedicated in person day for Genesis London on 9 December with online Innovation Workshops, 1-2-1 partnering and on-demand content is another exciting example of how to capitalise on technology to augment the human behavioural aspects to bond over coffee. Hence the enabled sharing of insights and connecting both domestically and globally when travel is not possible, not desired due to cost, environmental concerns or work-life balance or simply not convenient. It's an exciting programme being finalised!
When do you hit 'send'?
Finally, over the dinner above, the subject of what times of day it is appropriate to send emails, the role model the C-suite manager sets and how to create the correct culture and staff confidence to manage expectations arose.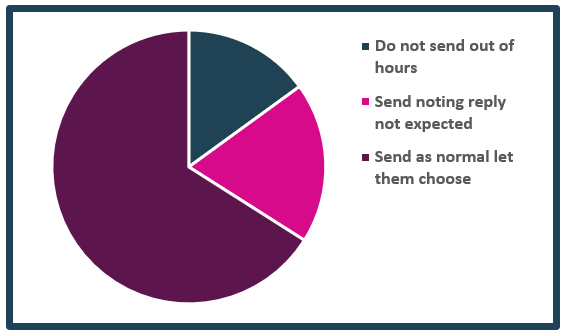 It led me to seek views from my network via LinkedIn. I gave a simple three options given the limitations of the platform: (i) do not send out of hours (including using Outlook's delay setting); (ii) send, but note you are sending out of hours with no expectation of response pre office hours; and (iii) send anyway and allow the recipient to decide when they work.
The poll stimulated a fair amount of feeling and the results summarised here. There are nuances to consider such as international collaborations, flexible working and personal choice.
What it does perhaps is set the challenge of what are the best ways to creating a team culture where everyone from most senior to most junior feels enabled to work as suits them best whilst feeling empowered to protect their own personal time and space without prejudice.
Sharing good practice and ideas around how to be an Employer of Choice to attract and support the best teams continues to be a valuable series we run with the network and that feeds into our annual Building Life Science Adventures conference which is open now for 2022 sponsors, supporters and delegates to secure their place. As always, you will also find more details of upcoming events, training courses, savings, the VIC update and more from which you can benefit.
Tony Jones
CEO, One Nucleus