Voting closes at 12.00 on Wednesday 2 March and the award will be presented by Johnson and Johnson Innovation at the end of the Fishing in a Global Pond session, 15.30 - 16.30 on Wednesday 2 March.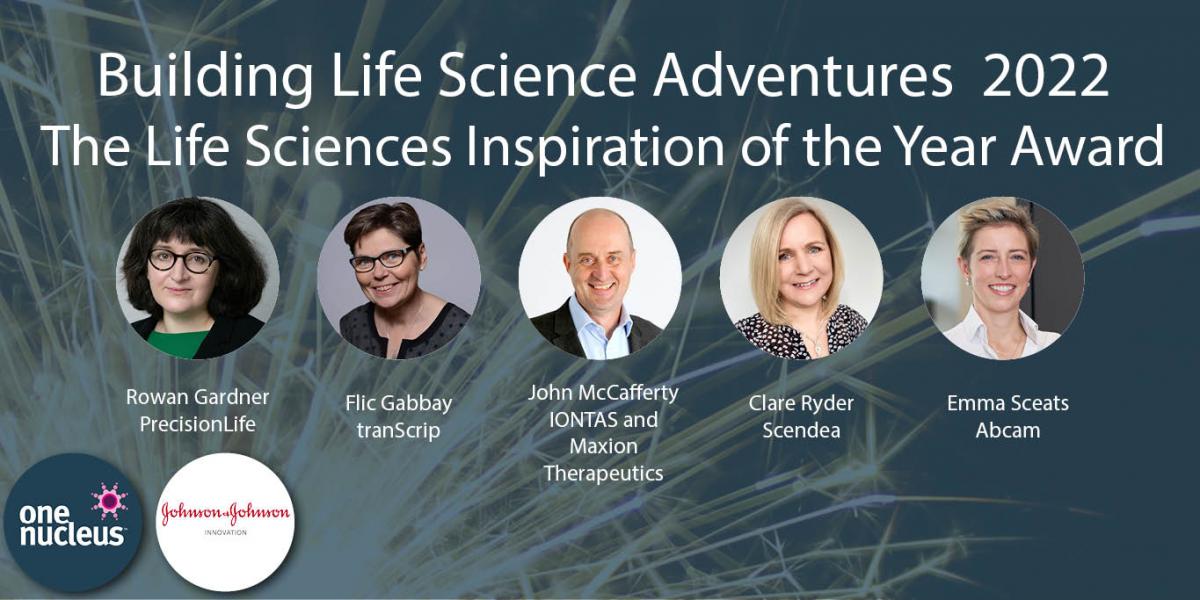 Claire Ryder, Scendea
Dr Clare Ryder joined Scendea during the peak of COVID-19, a challenging climate, and a period of rapid growth for our organisation. Upon arrival, Clare hit the ground running as Head of Project Management and has subsequentially become an integral member of not only our Operations team, but the whole organisation. Clare has nurtured team members, both existing and new, and has provided unmatched leadership, guidance, and mentoring. Clare handles times of stress with immense clarity and consideration, whilst remaining enthusiastic and approachable to all team members. Without the input and support from Clare this year, Scendea wouldn't be where it is today.
John McCafferty, IONTAS and Founder at Maxion Therapeutics
Brilliant scientist who shifted into a business career to advance science. A great figure in the local community. Dr. John McCafferty was the pioneer and inventor of antibody-phage display and co-founder of Cambridge Antibody Technology, which was subsequently acquired by MedImmune. On leaving CAT, John established a highly proficient proteomics group at the Wellcome Trust Sanger Institute which developed cutting edge protein expression and high throughput recombinant antibody isolation. He then headed a research group within the Department of Biochemistry at the University of Cambridge focused on identifying anti-receptor antibodies with therapeutic potential in cancer indication. More recently, John founded IONTAS, which was acquired by FairJourney Biologics in May 2020. John subsequently having crated another start up in Maxion Therapeutics.
Flic Gabbay, tranScrip
Founding and Senior Partner at tranScrip. A great career in Pharma and as CEO in several companies and has overseen taking numerous new medicines through development. In parallel, Flic has influenced and created numerous educational and career development initiatives with institutions like the Faculty of Pharmaceutical Medicine. A committed entrepreneur, Flic was founding Chairman of the steering group that set-up the UK Faculty of Pharmaceutical Medicine (FPM) and recently took office as FPM President. Flic was elected to drive more interest in the treatment of infection, investment in women's health and to support innovation in and raise standards of pharmaceutical medicine. In 2020, Flic was awarded the Fellowship of the Academy of Medical Science and is passionate about bringing pharmaceutical medicine into mainstream medical science and its application to public health.
Emma Sceats, Abcam
At Abcam, Emma leads the global Sales, Service and Business Development teams with a focus is to connect, support and collaborate with customers and partners to help deliver scientific breakthroughs. Prior to joining Abcam Emma was Chief Executive of Isogenica, a contract research organisation specialising in single domain therapeutic antibody discovery. Before that Emma was CEO of Organ-on-Chip pioneer CN Bio Innovations, building and selling lab equipment and services for in vitro alternatives to animal studies. Emma is involved in a number of organizations and networks that promote women in business, science and technology.
Rowan Gardner, PrecisionLife
Rowan Gardner is a serial life science entrepreneur. She is fascinated by the mutual reliance of capital, management and innovation to achieve success and meaningful change. A biochemistry graduate of the University of Oxford, Rowan joined Oxford Molecular Group a University spin-off and was part of the team that listed the company on the main board of the London Stock exchange in April 1994. She later co-founded a string of successful companies including Synomics, Biolauncher. Ozo Innovations and PrecisionLife. She became interested in the need for greater diversity and inclusion in the tech industry through her work with Astia an organisation that invests in and connects women entrepreneurs to capital.