Edinburgh and Cambridge, UK, 7 July 2023 - Macomics Ltd, a leader in macrophage drug discovery, is delighted to announce that it was voted as the winner of the 2023 BioNewsRound Award for the news of its worldwide drug discovery collaboration agreement with Ono Pharmaceutical Co., Ltd. to develop new immuno-oncology antibody drugs against a novel macrophage target of interest in cancer, announced in March.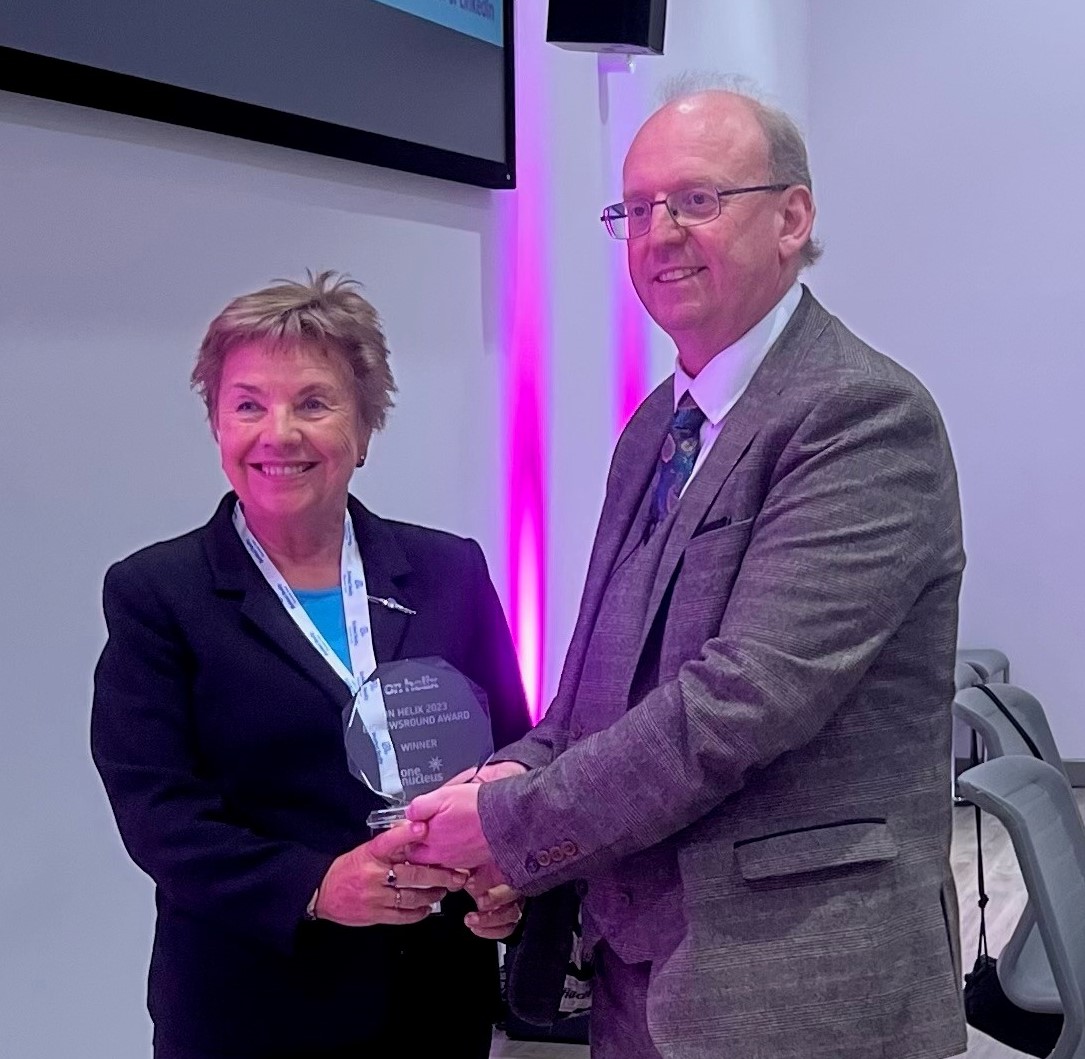 Sue Charles, consultant to Macomics collecting the award from Tony Jones, CEO One Nucleus, on behalf of CEO Steve Myatt
The Award, organised by leading trade association One Nucleus, seeks to celebrate life sciences successes from the past year. Specifically, this translational award, organised as part of the On Helix conference in Cambridge, recognises companies that demonstrated success in advancing their programme along the innovation pipeline, be that a new therapeutic, diagnostic or enabling technology.
The Ono collaboration is Macomics' first pharma collaboration under which Macomics will identify and characterise antibody candidates against the novel target of interest using its ENIGMAC macrophage drug discovery platform. Ono will have an exclusive option to license global rights to the candidates for further development and commercialization. Macomics will receive an up-front payment, R&D funding, and success-based milestone payments, as well as tiered royalties based on global net sales.
Dr Tony Jones, CEO of One Nucleus and organiser of the BioNewsRound Award said, "In selecting the finalists we look for the impact of the news on the organisation's development, the significance to the Life Sciences sector as a whole and the potential benefit to patients. Macomics scored highly against all of these criteria. The news of its deal with Ono validates both Macomics' technology and capabilities that underlines the strength of UK life sciences innovation. It is great to see a UK company translating world-leading macrophage research from the University of Edinburgh into commercial success and I am delighted that it was chosen by its peers as the 2023 winner."
Macomics is exploiting the potential of macrophage-based approaches to develop novel precision medicines to target disease specific macrophage biology. Macomics' ENIGMAC macrophage drug discovery platform integrates large volume human data sets, custom cell models, and proprietary human macrophage genome editing capability to discover novel targets and unlock disease specific target biology. Macrophages (TAMs) are often the most abundant immune cell many types of cancer and modulating TAMs can enhance the body's ability to fight cancer.
Stephen Myatt, CEO of Macomics said, "I am delighted to have been voted as winner of this year's award. This global collaboration with Ono is testament to our strong program portfolio, and the unique enablement offered by our ENIGMAC discovery platform, and our world class R&D team. Ono is a leader in immuno-oncology and we are delighted to have a partner in Ono who brings the complementary skills necessary to succeed in this therapeutic area."
-Ends-
About Macomics – www.macomics.com
Macomics Ltd is an immuno-oncology company with world-leading expertise in macrophage biology, developing precision medicines to modulate macrophages for the treatment of cancer.  The company is progressing a diversified portfolio of therapies targeting disease specific tumour associated macrophages ('TAMs') towards the clinic. Its ENIGMACTM macrophage drug discovery platform enables identification and validation of novel macrophage therapeutic targets and is based on its deep understanding of macrophage biology.
The company was co-founded in 2020 by Prof. Jeffrey Pollard and Dr. Luca Cassetta, University of Edinburgh, internationally recognised leaders in macrophage biology.  It has R&D and office facilities in Edinburgh and Cambridge, UK and is backed by Epidarex Capital, Scottish Enterprise, LifeLink Ventures and Caribou Property Limited.
Follow us on LinkedIn and https://twitter.com/MacomicsL
Media Contact Information: